Hi friends!
I'm alive! Sorry for the disappearing act last week, but I am eyeball deep in my finals and once I get on a roll I just want to get it done. I promise that starting next week I'll be back to blogging 7 days a week. I can't wait. I miss my bloggy friends.
I was super eager to take part in What I Ate Wednesday this week, but then I realized that if I actually showed you what I've been eating these days you would be bored to tears, or mortified.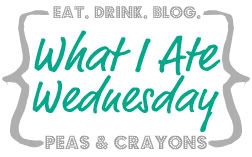 So instead I'm going to show you what I can't wait to make when I finally have the time.
This first dish is super simple, but also super delicious.
Tofu and asparagus. I cannot tell you how badly I need vegetables in my life these days.
Another dish I can't wait to eat?
That would be julienne zucchini with a raw tomato sauce.  It was so light and fresh, and I cannot wait to make it again.
But most importantly I cannot wait for the garden to finish growing so I can have copious amounts of fresh veggies at my disposal.
Those are the veggies from last year, and I am drooling just looking at them.
Tell me what you've been eating lately. Let me live vicariously through you!
Catch you hip cats later.
<3